Beets.
Beets are one of those veggies that you either love or you..dislike..(because I don't even want to think about how on earth people could hate beets).
Obviously, I'm a "beet lover."
These messy creatures make it impossible not to temporarily stain your kitchen counter with a little pink juice (don't worry, it can be cleaned), but I do advise you to watch your favorite blouse!
But before we continue on about cupcakes, I'd like to make a point in telling you not to throw out the greens attached to beets. By greens, yes, I do mean the "leafs." Beet greens are most definitely edible and are high in antioxidants and a great source of vitamin A, vitamin C, calcium, and iron. To learn more about the nutritional value of beet greens check out
this website
.
(All this talk of beet greens doesn't even do justice in explaining how nutritionally beneficial the beets themselves are for you.
Here's a link with more on that.
)
So the big question is: how obvious are the beets in these cupcakes?
When tested on five friends, three of which are "beet...haters," there was nothing but love in the air. If that doesn't say that these nutritionally sound cupcakes aren't worth the pink splatter on the wall, then I don't know what does.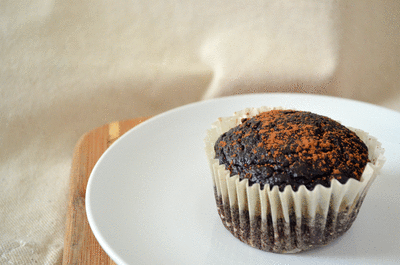 Chocolate Beet Cupcakes (Vegan)
Yield: 12 cupcakes
Adapted from:
minimalistbaker
Click here to print this recipe
Ingredients:
2 medium beets (3/4 cup beet puree)
1 cup unsweetened vanilla almond milk (or other nondairy milk)
1 teaspoon white vinegar
3/4 cup raw sugar
2 tablespoons olive oil or melted coconut oil
1/4 cups vegan dark chocolate, melted
2 tablespoons applesauce
2 teaspoons vanilla extract
1 cup white whole wheat flour
1/2 cup cacao powder (or unsweetened dark chocolate cocoa powder)
1 teaspoon baking soda
1/2 teaspoon baking powder
1/8 teaspoon salt
Method:
1. Preheat oven to 375 degrees. Cut the stems from the beet's root and wash them under running water.
2. Choose a method of cooking your beets:
Method A
: Lay beets over foil, wrap, and roast for approx. 1 hour or until a knife can be inserted into the beet without resistance. Place beets into a bowl and let cool in the fridge. Once cool, peel the skin off of the beets.
Method B
: Place beets in a large pot of boiling water and simmer for 45 min - 1 hour until a knife can be inserted into the beet without resistance. Strain water and cool the beets in a bowl in the fridge. Once cool, peel the skin off of the beets.
3. Lower the oven to 350 degrees. Puree the beets in a blender with a couple tablespoons of water (to help with mixing). Set aside 3/4 cup beet puree.
4. In large bowl, stir together the almond milk and white vinegar. Allow to sit for 5 minutes.
5. After 5 minutes, whisk in the beet puree, raw sugar, melted dark chocolate, applesauce, oil, and vanilla.
6. In a separate bowl, sift together the white whole wheat flour, cacao powder, baking soda, baking powder, and salt.
7. Slowly add the sifted dry ingredients to the liquids while beating the batter with a paddle attachment or stirring by hand with a whisk.
8. Spoon into a lined cupcake pan 2/3 of the way full.
9. Bake for 20-25 minutes or until a toothpick comes out of the cake clean.
10. Let cool completely before dusting with cacao powder or cocoa powder and store in an airtight container on the counter for up to 5 days or in the fridge for 1 week.